CrossAdd is a fast and challenging mathematical game based on a great classic.
The goal is to reset the value of all the cell. To do so is possible to tap a cell to reduce it's value an the value of all the cell on the same row and column.
For example, tapping on the upper right cell (the one with a value of 3 in the picture) all the cells in the first row and last column decrease their value by one.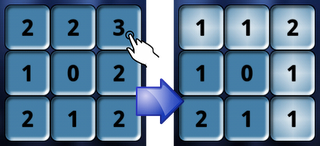 The game becomes more and more difficult as the size of the grid, the number of shuffle and the cell type increase.
Android version: 1.6 and up
Price: Free (with ads)
Content Rating: For all